The Spielman Fund at Work- Erin Olson, MD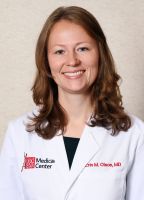 The Spielman Fund is devoted to advancing research and finding a cure that we can pass along to our children. One of the OSUCCC – James researchers who is carrying Stefanie's dream of a cancer-free world through their work is Erin Olson, MD in the Division of Medical Oncology. She is running a research study funded entirely by the Spielman Fund called, "MEK and AKT Inhibition in Patients With Advanced Triple Negative Breast Cancer". Because patients with triple negative breast cancer (TNBC) have poor clinical outcomes, scientists are seeking new targeted therapies. This study will evaluate the ability of MEK and AKT protein inhibitor-based therapies to cause a durable antitumor response in advanced TNBC and to understand predictors of sensitivity and mechanisms of resistance to these agents. This approach will involve the first clinical trial to evaluate a novel targeted combination strategy for metastatic TNBC.

Hope's Boutique Cocktail Hour- A Success!
Congratulations and a huge thank you to Susan Zanner, Nancy Rapport and Michele Kusma for hosting the Hope's Boutique Cocktail Hour on May 9 at the Stefanie Spielman Comprehensive Breast Center. This inspiring evening brought together supporters, family and friends to spread awareness about breast cancer and to share what the Comprehensive Breast Center has to offer. The event offered guests the chance to socialize, shop at Hope's Boutique and tour the Center while enjoying hors d'oeuvres and cocktails. Donations from the evening will benefit the Stefanie Spielman Comprehensive Breast Center.


Our Proud Partners-
MAC Tools

MAC Tools, a national company based in Westerville, Ohio, is participating again this October in a effort to raise dollars for the Stefanie Spielman Fund for Breast Cancer Research. In 2012, MAC raised $32,000 for the fund by selling special edition "Wrenching the Cure" toolboxes to MAC Tool Distributors, bringing the two year donation to over $48,000. Keep an eye out for the Stefanie Spielman Fund for Breast Cancer Research logo on the MAC Tool sponsored NHRA Top Fuel Dragster running during the Auto-Plus NHRA Nationals racing event in Reading, Pennsylvania the weekend of October 3-6, 2013. For more information, visit www.mactools.com


Comprehensive Breast Center LEED Certification
The Stefanie Spielman Comprehensive Breast Center was just ranked 7th on a list of Ohio LEED-certified spaces! LEED (Leadership in Energy and Environmental Design) is a program that provides third-party verification of 'green' buildings. Participation in the voluntary LEED process demonstrates leadership, innovation, environmental stewardship and social responsibility. The 117,400-square-foot Breast Center was LEED-certified in February 2013. Building features include low-flow plumbing fixtures, native plants and a watering system to reduce use of potable water for irrigation by 72%.



There is No Such Thing as a Routine Mammogram
The "No Routine Mammogram" campaign is back this spring and will be featured throughout Columbus and central Ohio. For the fall 2012 campaign, the OSUCCC – James was awarded "gold" in the Total Advertising Campaign category for academic medical centers in the Cancer Awareness Advertising Awards, an international competition among hospitals, health systems and academic medical centers. Even more importantly, the campaign paid off, resulting in monthly increases as high as 30 percent for clinical volume at the Stefanie Spielman Comprehensive Breast Center.

Send a loved one a video reminder to get her mammogram at www.JamesMammoGram.com!

A Spielman Note
"With each year, each month and each day, there are breakthroughs and possibilities in the fight against cancer."
- Stefanie Spielman