WELCOME TO CANCER CONNECTION, a monthly online publication featuring the latest news and information for faculty and staff at Ohio State's Comprehensive Cancer Center – James Cancer Hospital and Solove Research Institute (OSUCCC – James). If you have a news item for the next Cancer Connection, call 293-6825 or send an email message to robert.hecker@osumc.edu by Tuesday, December 20.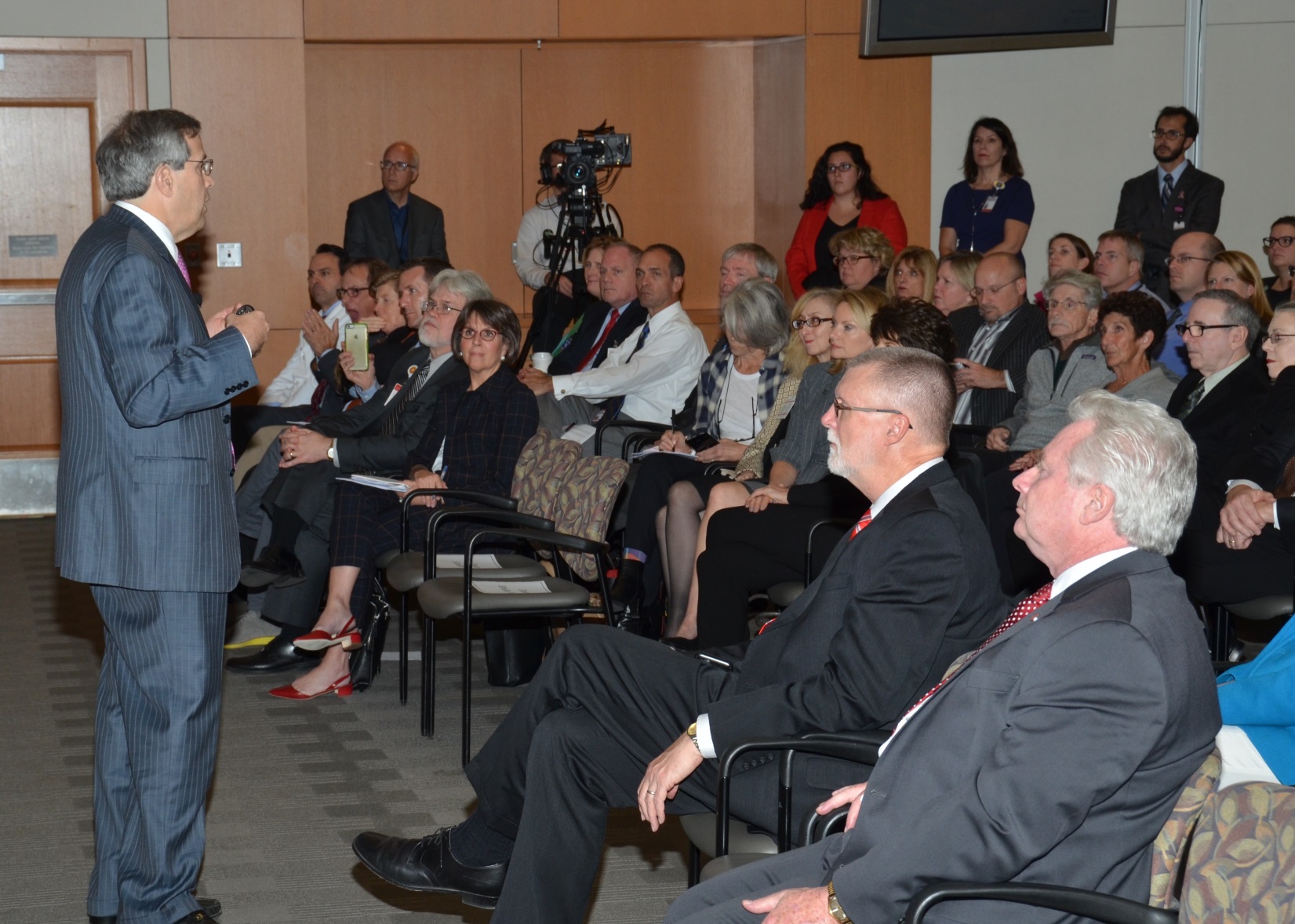 OSUCCC Director and James CEO Michael A. Caligiuri, MD, delivers his 2016 State of the Cancer Program Address to a capacity audience in 115 BRT.
Caligiuri Delivers Annual 'State of the Cancer Program Address'
OSUCCC – JAMES MAKING 'EVER-BIGGER FOOTPRINT' IN CANCER CARE
Ohio State's cancer program is placing "an ever-bigger footprint around the globe" as it continues to make an impact in research, compassionate care and community relationships, OSUCCC Director and James CEO Michael A. Caligiuri, MD, said during his "State of the Cancer Program Address."
"The impact we're making couldn't come soon enough," Caligiuri said on Nov. 9 when addressing a capacity audience in Room 115 of Ohio State's Biomedical Research Tower. "I get calls almost every day from people who are desperate for help. It's really neat for them to learn that help is on the way" via all that the OSUCCC – James has to offer through its research-based cancer care. Read more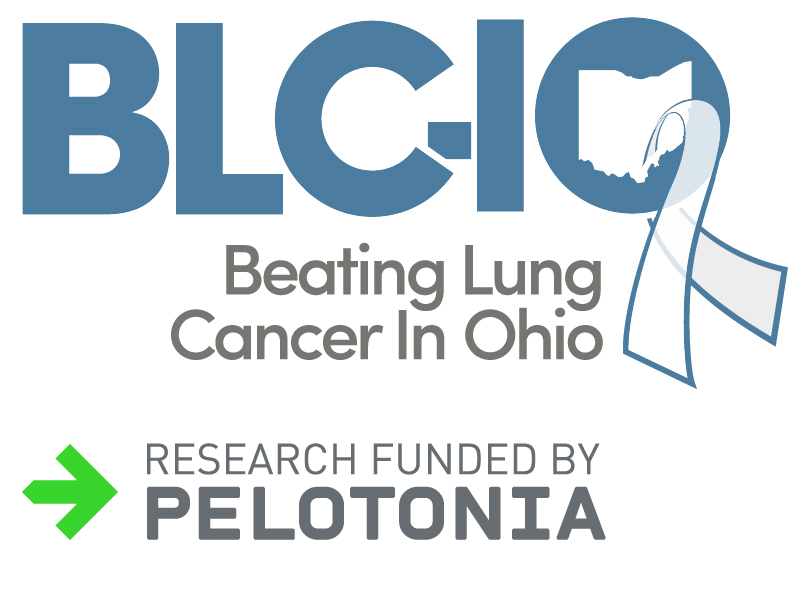 STATEWIDE LUNG CANCER CLINICAL RESEARCH INITIATIVE TO BE LAUNCHED
The OSUCCC – James is set to launch a statewide clinical research initiative that takes aim at lung cancer, the No. 1 cancer killer among men and women in the United States.
Led by Peter Shields, MD, David Carbone, MD, PhD, and Mary Ellen Wewers, RN, PhD, MPH, the initiative is called Beating Lung Cancer - in Ohio (BLC-IO) and will be supported by a $3 million grant from Pelotonia, the annual grassroots bicycle tour that raises money for cancer research at Ohio State.
The initiative will draw upon an existing network of more than 50 partner hospitals from communities across Ohio that was established as part of the Ohio Colorectal Cancer Prevention Initiative (OCCPI), a previous statewide research initiative funded by Pelotonia. Recruitment for the new initiative will take place over three years starting in March 2017. Read more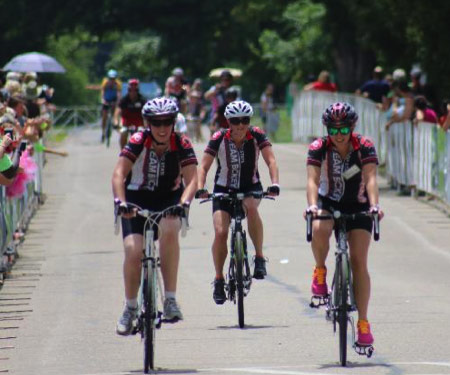 PELOTONIA 16 RAISES OVER $24 MILLION FOR CANCER RESEARCH AT OHIO STATE
Pelotonia, a grassroots organization that raises money for cancer research at the OSUCCC – James, announced at a ceremony on Nov. 9 that riders, virtual riders and volunteers raised a record $24,104,432 through the 2016 ride, bringing the organization's eight-year total to $130,159,438.
Donors from all 50 states and more than 60 countries contributed to the funds raised by the 275 pelotons (riding groups) in Pelotonia 16, which was the eighth installment of this annual tour that began in 2009. Specifically in Columbus on Aug. 6-7, 7,749 riders and 2,790 volunteers from 40 states and eight countries participated in six routes that ranged from 25 to 180 miles.
The 2017 Pelotonia ride is scheduled for Aug. 4-6. Rider registration will open on Feb. 8 at pelotonia.org. Read more
NEW DIRECTOR FOR DIVISION OF MEDICAL ONCOLOGY TO START JUNE 1
Claire Verschraegen, MD, MS, director of Hematology/Oncology at the University of Vermont, will become the new director of the Division of Medical Oncology in the Department of Internal Medicine at Ohio State on June 1, when she also will become associate director for translational research at the OSUCCC – James. Her appointments were announced Nov. 22 by OSUCCC Director and James CEO Michael A. Caligiuri, MD, and Michael R. Grever, MD, professor and chair of the Department of Internal Medicine at Ohio State, where he also serves as associate dean for medical services in the College of Medicine. Read more
HOLIDAY SEASON TO FEATURE SEVERAL SPECIAL EVENTS
Cancer program holiday receptions, a progressive sale at Scarlet Ribbon Gift Shops, and the annual Santa Rounds & caroling on patient floors at The James are among several special events scheduled in observance of the holiday season at the OSUCCC – James. A full schedule of events is attached as a flier for printing and posting.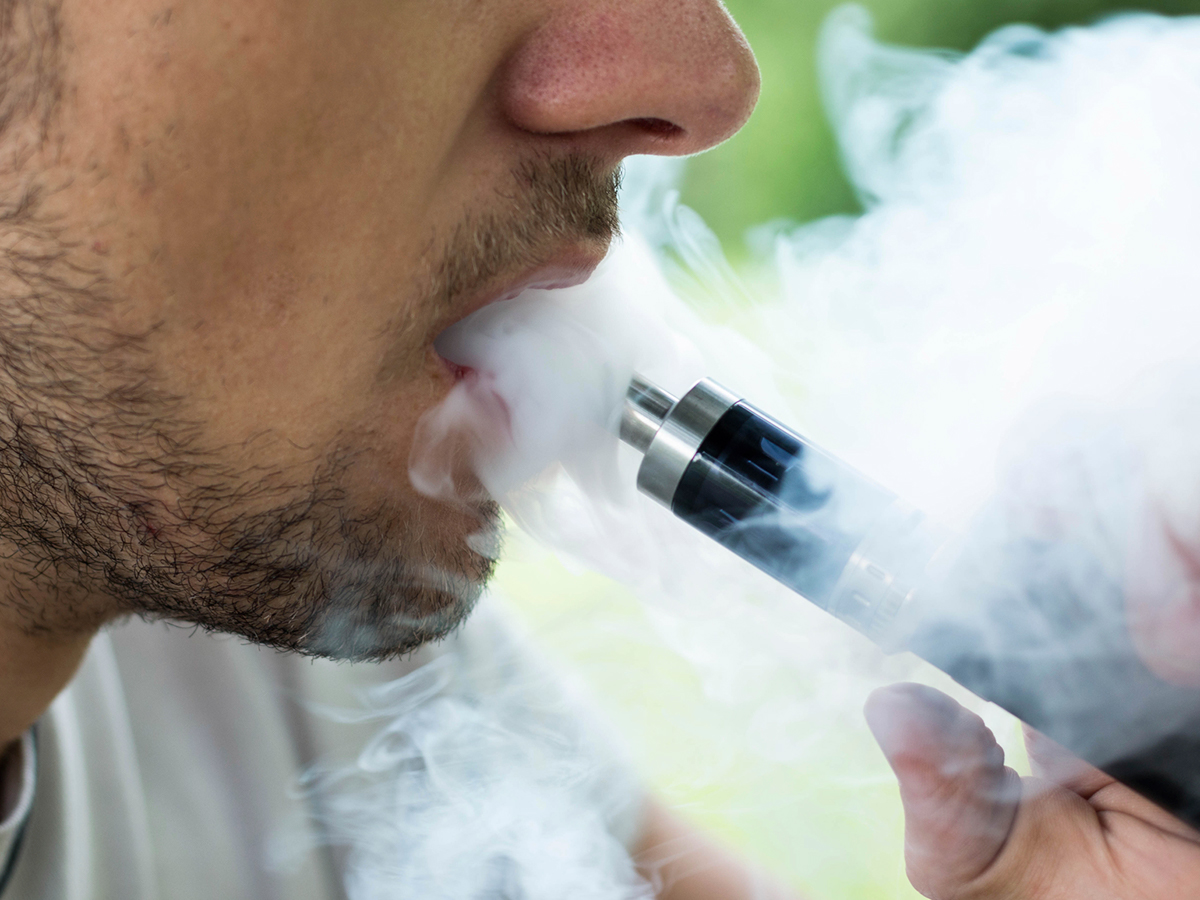 SURVEY: MAJORITY UNDER 35 THINK E-CIGS ARE SAFER; STUDIES AIM TO FIND OUT
Most Americans under age 35 think that using electronic cigarettes does not cause as much damage to lung health as compared with traditional cigarettes, according to the results of a new national consumer survey.
In the survey, which included more than 2,000 people under 35, 44 percent of respondents reported believing that e-cigarettes are less harmful to the lungs than traditional cigarettes. Among men, that number jumped to 54 percent who think e-cigarettes are safer.
"The truth is there is just so much we don't know about these new products," says Peter Shields, MD, a thoracic oncologist and deputy director of the OSUCCC – James, where he also is in the Cancer Control Program. "We have no idea where in the spectrum these are, in terms of safety. Are they like cigarettes, or nothing like cigarettes? Do they affect people the same if they've never smoked, or a lot worse? We need to figure this out." Read more
MARK CALENDARS FOR 'STATE OF RESEARCH' ADDRESS, INNOVATOR AWARDS
Caroline Whitacre, PhD, senior vice president for Research at Ohio State, will deliver her annual State of Research Address and announce the 2016 Innovator of the Year awards at 8:30 a.m. on Wednesday, Jan. 25, in the U.S. Bank Conference Theater at the Ohio Union.
Whitacre will talk about the breadth, scope and excellence of Ohio State's research programs and announce the recipients of the 2016 Innovator of the Year, Early Career Innovator of the Year and Student Innovator of the Year awards.
Immediately following those announcements, a reception honoring the award recipients will be held in Woody's Tavern at the Ohio Union. If you wish to attend these events, please RSVP. Questions? Contact Beth Haas at haas.23@osu.edu or 614-688-4725.
APPLICANTS SOUGHT FOR TL1 MENTORED CLINICAL RESEARCH TRAINING PROGRAM
The Ohio State University Center for Clinical and Translational Science (CCTS) is seeking applicants for the TL1 Mentored Clinical Research Training Program. The TL1 award supports pre- and postdoctoral trainees who want a practical introduction to clinical and translational research. The program goal is to increase the number of well-trained clinician-scientists who can design and oversee clinical investigations leading to faster delivery of new treatments to patients. An information session about the program is set for noon-1 p.m. on Saturday, March 4, in Room 240 Prior Hall. Register
NEW NIH POLICY ON GOOD CLINICAL PRACTICE TRAINING EFFECTIVE JAN. 1
Effective Jan. 1, all NIH-funded investigators and staff who are involved in the conduct, oversight or management of clinical trials should be trained in Good Clinical Practice (GCP). GCP training complements other required training on protections for human subjects research. It provides a standard for ensuring clinical trial compliance, implementation, data collection, monitoring and reporting (e.g., safety data, accrual reports, study status, protocol deviations, unanticipated problems or final data) and outlines the responsibilities of Institutional Review Boards (IRBs), investigators, sponsors and monitors.
NCCN SEEKS GRANT FUND PROPOSALS FOR LUNG CANCER DRUG STUDY
The National Comprehensive Cancer Network (NCCN) has received a research grant from AstraZeneca Pharmaceuticals, LP to support NCCN investigator-initiated clinical, preclinical and correlative studies of TAGRISSO™ (osimertinib) in treating systemic or CNS EGFRm+ non-small cell lung cancer and is requesting proposals for using this money. The RFP can be accessed online by signing in as a member at NCCN.org/clinical_trials/investigators.
Investigators are asked to submit a proposal detailing their prospective research studies. It is hoped that the proposals will prove useful in guiding further development of TAGRISSO™ (osimertinib). Studies with correlative endpoints and collaborative studies between NCCN member institutions are encouraged. Proposals are due by 5 p.m. EST on Thursday, Jan. 12. For additional information, contact Doreen Walker, administrative assistant, Oncology Research Program, at (215) 690-0565 or via e-mail at Walker@nccn.org.
CURRENT RESEARCH DEVELOPMENT & GRANT WRITING NEWS AVAILABLE
The latest issue of Research Development & Grant Writing News is available at go.osu.edu/grantwritingnews. This monthly newsletter contains articles and links to resources on the Web. Topics this month include:
Planning for Success at NSF
The Editorial "Clawback" on Page Overruns
What's your Problem? What's Your Solution?
Initiative to Strengthen Agricultural Workforce
The Stepwise Path from Ideas to Dollars
Agency Research News, Reports, Workshops & Roadmaps
New Funding Opportunities

TRANSLATIONAL THERAPEUTICS PROGRAM SEMINAR
DEC. 15 – Carter Van Waes, MD, PhD, Clinical Director, National Institute on Deafness and Other Communication Disorders, and Chief, Head and Neck Surgery Branch and Tumor Biology Section, Division of Intramural Research, National Institutes of Health, Bethesda, Md., Noon-1 p.m., 115 BRT, "Genomics and Personalized Medicine for Head and Neck Cancer." Lunch will be provided.


CANCER CONTROL PROGRAM SEMINAR
DEC. 21 – Ted Brasky, PhD, Research Assistant Professor, Division of Cancer Prevention and Control, College of Medicine; Ashley Felix, PhD, Assistant Professor, Division of Epidemiology, College of Public Health; Ashley Rosko, MD, Assistant Professor-Clinical, Division of Hematology, College of Medicine; Tasleem Padamsee, PhD, Assistant Professor, Division of Health Services Management and Policy, College of Public Health; Micah Berman, JD, Assistant Professor, Division of Health Service Management and Policy, College of Public Health, and Moritz College of Law (all presenters from Ohio State), Noon-1 p.m., L035 James, "Five Updates on K Proposals." Lunch will be provided.

The 2016-17 OSUCCC – James Grand Rounds series continues on selected Fridays throughout the academic year. All lectures will be from 8-9 a.m. in L035 James (Wasserstrom Family Conference Room) on the Conference Level unless otherwise noted. Below is a list of upcoming Grand Rounds presentations. Watch Cancer Connection and the Weekly Cancer Event Update for updates and details.
JAN. 6 – Joshua Lang, MD, MS, Assistant Professor, Department of Medicine, Division of Hematology/Oncology, University of Wisconsin; Clinical Co-Chair, Precision Medicine Molecular Tumor Board, University of Wisconsin Carbone Cancer Center
JAN. 20 – Rebecca Jacobson, MD, MS, Professor, Department of Biomedical Informatics, University of Pittsburgh Medical School
FEB. 3 – Ehud Mendel, MD, FACS, Professor of Neurological Surgery, Oncology, Orthopaedics and Systems Engineering at Ohio State; Justine Skestos Chair in Minimally Invasive Neurological Spinal Surgery; Director, Spine Program, Complex Oncological Fellowship Program; Clinical Director, The Ohio State University Spine Research Institute; President-Elect, The Ohio State Neurosurgical Society, "Surgical Management of Spine Tumors" Biosketch
MARCH 3 – Clara D. Bloomfield, MD, Distinguished University Professor at The Ohio State University; Cancer Scholar and Senior Adviser at the OSUCCC – James, "New World Health Organization and European LeukemiaNet AML Classifications"


JAMES NURSING GRAND ROUNDS
(All lectures will be in L045 James unless otherwise noted.)
DEC. 14 – Various speakers will talk about the body of work presented by James nurses at 2016 national conferences. This session will be from 1-2 p.m.

Medical scientists at the OSUCCC – James frequently publish cancer-related articles in prestigious scientific journals. View a list of articles that have appeared recently in journals with an impact factor (IF) of 7.0 or above. Bolded names denote OSUCCC members.
REGISTER FOR OHIO STATE'S 2017 ASH REVIEW
Register now for Ohio State's 2017 American Society of Hematology (ASH) Review, a Jan. 20 event that will provide a comprehensive overlook at advances in the biology, etiology, diagnosis, therapy and evidence-based management of blood cancers as presented at the 58th ASH Annual Meeting & Exposition that was held Dec. 3-6 in San Diego.
The ASH Review, to be held from 7:30 a.m.-3:30 p.m. at The Fawcett Center, 2400 Olentangy River Road, will include a keynote address by Ashley Rosko, MD, assistant professor-clinical in the Division of Hematology at Ohio State and member of the Cancer Control Program at the OSUCCC – James. There is no fee to attend the review. Register If you have any questions, contact Sarah.Schmidt (293-5521).
NEXT JAMES OPEN FORUM IS THURSDAY, JAN. 5
The next monthly James Open Forum featuring Kris Kipp, MSN, RN, OSUCCC – James executive director of patient services and chief nursing officer, will be held from 8-9 a.m. and 2-3 p.m. on Thursday, Jan. 5, in L035 James (Wasserstrom Conf. Room) on the Conference Level. These Question & Answer Forums are held on the first Thursday of each month at the same times and location to address faculty and staff questions. Your questions and feedback are welcome. After the January forum, the next ones will be held on and Feb. 2 and March 2.
DEC. 9 NCCN SUMMIT TO ADDRESS 'VALUE TOOLS IN CANCER CARE'
Registration is open for a National Comprehensive Cancer Network (NCCN) Summit on Value Tools for Patients in Cancer Care to be held on Friday, Dec. 9, from 7:30 a.m.-3 p.m. at The National Press Club, 529 14th St., in Washington, D.C. This summit will enable a varied group of stakeholders, including patients, patient advocacy organizations, providers, payers, industry and government, to discuss current value tools in cancer care that are available for patients. Register & learn more
REGIONAL NON-SMALL CELL LUNG CANCER SUMMIT SET FOR JAN. 14
Healthcare providers can improve their knowledge, skill and competence in the assessment and management of non-small cell lung cancer (NSCLC) by attending a regional summit titled GAIN: EnGAging an Interdisciplinary Team for NSCLC Diagnosis, Personalized Assessment & Treatment on Saturday, Jan. 14, in Tampa, Fla. This educational initiative will consist of pulmonology, thoracic surgery, pathology and oncology clinicians engaged in various live, enduring and practice-improvement efforts. Learn More & Register
NCCN 2017 CONGRESS SERIES™: BREAST CANCER TO UNFOLD FEB. 10
Expert insights on the current standard of care for patients with breast cancer will be presented at the National Comprehensive Cancer Network (NCCN) 2017 Congress Series™: Breast Cancer from 7:45 a.m.-3:30 p.m. CST on Friday, Feb. 10, at Prentice Women's Hospital in Chicago. This event also will provide the latest clinical research updates from the 2016 San Antonio Breast Cancer Syposium to assist clinicians in formulating breast cancer management strategies. Register
NCCN CASE MANAGER & MEDICAL DIRECTOR LIVE WEBINARS SLATED
Here are the remaining live webinars for December in the National Comprehensive Cancer Network (NCCN) Case Manager and Medical Director Program Series:
Dec. 12 – Distress Management – Implementing New Standards of Care
Dec. 14 – Ovarian Cancer – The Value of NCCN Guideline-Adherent Care
Dec. 16 – Practical Considerations in the Long-Term Management of Patients with CML
2 PRESENTATIONS LISTED FOR NCCN IMMUNOTHERAPIES IN CANCER SERIES
Here are the remaining online presentations for December in the National Comprehensive Cancer Network (NCCN) 2016 Congress Series™: Immunotherapies in Cancer:
Dec. 8 – Melanoma
Dec. 21 – Management of Toxicities Related to Immunotherapies

REGISTRATION OPEN FOR NCCN 22ND ANNUAL CONFERENCE 2017
Register now for the National Comprehensive Cancer Network (NCCN) 22nd Annual Conference 2017: Improving the Quality, Effectiveness and Efficiency of Cancer Care™, which will be held from Thursday, March 23-Saturday, March 25 at Rosen Shingle Creek in Orlando, Fla. Early-bird registration fee discounts will expire Monday, Feb. 13. Learn more & register
The NCCN conference annually draws more than 1,600 registrants from around the world, including oncologists (in both community and academic settings), oncology fellows, nurses, pharmacists and other healthcare professionals involved in the care of patients with cancer. Respected opinion leaders will present the latest cancer therapies and provide updates on selected NCCN Clinical Practice Guidelines in Oncology (NCCN Guidelines®). This year's agenda includes more than 25 educational sessions featuring the latest advances in oncology care.
NCCN 2017 ONCOLOGY NURSING PROGRAM SLATED FOR MARCH 22
Oncology nurses who manage patients with cancer are encouraged to attend the National Comprehensive Cancer Network (NCCN) 2017 Oncology Nursing Program that will precede the NCCN 22nd Annual Conference in March at Rosen Shingle Creek in Orlando, Fla. The Oncology Nursing Program will unfold from 8 a.m.-3 p.m. on Wednesday, March 22, a day before the start of the March 23-25 NCCN 22nd Annual Conference at the same location (see story, above).
The Oncology Nursing Program will provide comprehensive and clinically relevant information designed to optimize patient education and care. Program agenda topics include: Creating a Compassionate Workplace; Strategies to Improve the Management of Febrile Neutropenia; Optimizing the Nursing Role in Difficult Conversations; and Management of Adverse Dermatologic Effects.
If you are registered for the Oncology Nursing Program, you are automatically registered for the NCCN Annual Conference General Sessions on March 23-25; it is not necessary to register for both programs. Learn more & register for the Oncology Nursing Program

JAMES MEDICAL STAFF APPOINTMENTS APPROVED
The Professional Affairs Committee of the Ohio State Wexner Medical Center Board of Trustees in November approved the initial appointments of one attending physician and nine associate attending physicians on The James medical staff. The new appointees and their departments and divisions (if applicable) are:
Attending – Gabriel Tinoco Suarez, MD Internal Medicine (Medical Oncology)
Associate Attending – Nour Abou Assalie, MD, Internal Medicine (Hospital Medicine); Mark Bechtel, MD, Internal Medicine (Dermatology); Bakri Elsheikh, MBBS, Neurology; Robert Fallis, MD, Neurology; Irina Livshitz, MD, Ophthalmology; Jose Moreno, PhD, Psychiatry (Health Psychology); Imran Rafique, MBBS, Internal Medicine (Medical Oncology); Walter Stearns, MD, Psychiatry; Rajive Tandon, MD, Internal Medicine (Pulmonary, Allergy, Critical Care and Sleep Medicine)

DATES SET FOR 'RECONNECTING TO PURPOSE AND PASSION 2017'
Registration is open for "Reconnecting to Purpose and Passion 2017," a two-day experiential retreat that enables participants to engage in the four key relationships of Relationship-Based Care (care of self, colleagues, patients/families and community) while reconnecting to their personal and professional passion. The first workshop of 2017 will be Jan. 12-13. Subsequent workshops will be held Feb. 23-24, April 27-28, Aug. 30-31, Oct. 19-20 and Nov. 16-17. When registering, provide session dates and your name, cost center, unit/department and title/role.) Register: Andrea Pack
JAMES PATIENT-SATISFACTION SCORES SOAR IN SEPTEMBER
The James' HCAHPS (Hospital Consumer Assessment of Healthcare Providers and Systems) scores finished strong in September with top box scores that were in the top decile for all HCAHPS domains. The September HCAHPS Overall top box score was 88.9 percent and placed The James in the 98th percentile. Read more
JAMESCARE FOR LIFE LATE-FALL OFFERINGS LISTED
A Lunch & Learn presentation on Managing Chemo-Related Memory Loss and a Healing Through Art session are among several offerings scheduled in the weeks ahead as part of the JamesCare for Life (JCFL) Fall Class Series, which is designed for those diagnosed with cancer and their caregivers. All of the offerings are FREE, but registration is required by calling 293-6428 or by visiting cancer.osu.edu/JCFL. You also can read highlights of December JCFL classes. View the Winter 2017 Class Listing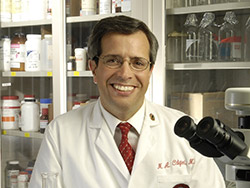 CALIGIURI FIRESIDE CHAT TO HIGHLIGHT WINTER JCFL OFFERINGS
OSUCCC Director and James CEO Michael A. Caligiuri, MD, will present an informative fireside chat about the future of cancer research, prevention and treatment on Thursday, Feb. 9, at The Fawcett Center, 2400 Olentangy River Road, as part of the JamesCare for Life 2017 winter offerings. The doors will open at 5:30 p.m.; the program will extend from 6-8 p.m.
Guests will learn more about some of the research discoveries and new cancer therapies at Ohio State while listening to one of the world's leading cancer experts talk about how everyone at the OSUCCC – James is working together to create a cancer-free world.
Light appetizers will be served, and free on-site parking will be available. A parking pass (to be displayed on dashboards) will be emailed to registrants one week before the program. Register
This program will also be available to view online via live stream. Email jamescareforlife@osumc.edu for viewing instructions.

HIPAA CBL REQUIREMENT REMINDER ISSUED
As announced earlier this year, required annual eLearning deadlines will change to June 30 of each year, including the HIPAA CBL. (Please note that the deadline to complete the Flu CBL for those requesting an exemption from the flu shot is Dec. 1 each year.) To ease this transition—this year only—faculty and staff will have until June 30, 2017, to complete all other CBLs, including HIPAA CBLs. This grace period will allow a smoother transition and give staff more time to acclimate to this change. Click here to complete your CBLs and other training, or to register for classes.
REGISTER TO RECEIVE BUCKEYE ALERTS
If your cell phone number is already in Employee Self Service (for faculty/staff) or BuckeyeLink (for students), you are automatically registered for the Buckeye Alert text messaging system. Faculty, staff and students have the ability to register up to two additional cell phone numbers to receive text message notifications. These additional phone numbers can belong to parents, spouses or anyone else they wish to include in the text message notifications. To add / update your cell phone number and get more information, read about alert notices.
BUILDING RELATIONSHIPS WITH DIGITAL STRATEGY ACROSS OHIO STATE
In addition to the OSUCCC – James blog, The Ohio State University Wexner Medical Center (OSUWMC) recently launched a blog focused on providing helpful tips on health-related topics to ease healthcare decisions.
The focus of the OSUCCC – James blog is to provide information on cancer research, treatment and healthy living for cancer patients and their caregivers, while this new community blog aims to provide useful, general health and wellness information from OSUWMC experts. Both blogs offer helpful information on managing one's health and the health of loved ones. Relevant blog stories will also be posted to OneSource.
REMEMBRANCE AND RENEWAL OPPORTUNITY EXTENDS THROUGH FRIDAY
Faculty and staff are encouraged to visit Room 061 on the ground floor of the new Brain & Spine Hospital for a self-guided Remembrance and Renewal experience to recall those who have impacted your life personally and professionally; honor patients, families and friends to whom you have provided compassionate care; celebrate life and the sacredness of relationships; and renew your mind, body and spirit. The opportunity became available at noon on Monday, Dec. 5, and will extend until 5 p.m. on Friday, Dec. 9. Room 061 is located through the lobby of the Neuro-Oncology Clinic, toward the left and straight back (last room on the left before the restrooms).

TIME TO REGISTER FOR 'STEP UP FOR STEFANIE'S CHAMPIONS'
Registration is open for Step Up for Stefanie's Champions 2017, presented by Panera Bread. Cancer survivors are encouraged to honor the champions in their lives by participating in the one- or four-mile walk/run on Saturday, April 22. The event will begin and end at the Stefanie Spielman Comprehensive Breast Center, 1145 Olentangy River Road. Learn more about nominating your champion and/or signing up to participate in this event.

SET SAIL WITH 2017 BUCKEYE CRUISE FOR CANCER
Make your reservation today for the 2017 Buckeye Cruise for Cancer, which will take place from Saturday, Feb. 25-Thursday, March 2, to raise money for the Urban and Shelley Meyer Fund for Cancer Research and the OSUCCC – James. Guests will be traveling on Royal Caribbean's Independence of the Seas cruise ship from Fort Lauderdale, Fla., to Buckeye Island (CocoCay, Royal Caribbean's private island), and Nassau, Bahamas. 2017 will mark the 10th anniversary of the cruise, which over the years has helped raise over $7 million for cancer research. Learn more and book your cruise
COMMUNITY PARTNER FUNDRAISERS PLANNED
Shown below are upcoming Community Partner fundraisers that will benefit the OSUCCC – James:
Raise a Racket for Cervical Cancer Awareness
The Crawford Crew will hold the fifth annual Raise A Racket to raise money for the fight against cervical cancer on Saturday, Jan. 21, from 4-9 p.m. at Wickertree Tennis & Fitness, 5760 Maple Canyon Ave. The day will include tennis clinics and competitions with the pros, silent auction, raffle, live music, a variety of foods from local restaurants in Columbus, beverages and a speaking program. Proceeds will benefit The Diane Crawford Cervical Cancer Research, Education, Outreach Fund. Those who register by Dec. 15 will receive a 17 oz. Raise A Racket double wall stainless steel bottle. For more information, visit www.thecrawfordcrew.org or contact diane.kay.crawford@gmail.com.
Cards to Cure Cancer
Join the Buckeye Alumni Cheerleaders for their annual poker tournament on Jan. 22 at the Hollywood Casino, 200 Georgesville Road, Columbus. Registration will start at 9 a.m.; cards will fly at 11 a.m. Joining this event, which will benefit The Urban and Shelley Meyer Fund for Cancer Research, will be poker superstar Mike Sexton, a World Series of Poker winner, Ohio State graduate and professional poker commentator. Buckeye greats scheduled to appear are Jake Ballard, Terence Dials, Raymont Harris, Branden Joe, Scoonie Penn, Antonio Pittman, Anthony Schlegel, J.J. Sullinger, Granville Waiters, Beanie Wells and Justin Zwick. Sponsorships and individual player entries are available. For more information, visit www.cardstocurecancer.com.
SPAGIO - Travel the World with Chef Mehta
On Sunday, March 19, Spagio will host Chef Jehangir Mehta, chef and owner of Graffiti, Me and You, at 4 p.m. in the Spagio Wine Lounge. Guests can take a virtual taste tour of the world as Mehta guides them through his favorite global dining experiences. The cost is $250 per person. Advance reservations are required; seating is limited. Proceeds will benefit the Radiation Oncology Fund at the OSUCCC – James. For more information, visit www.spagio.com.
SPAGIO - An Intimate Dinner with Jehangir Mehta
On Monday, March 20, at 6 p.m. at the Aubergine Private Dining Club, enjoy an intimate multi-course dinner prepared by the award-winning Chef Jehangir Mehta. In addition, Master Sommeliers Matthew Citriglia and Larry O'Brien will compete for best paired wines per course. Advance reservations are required; seating is limited. Proceeds will benefit the Radiation Oncology Fund at the OSUCCC – James. For more information, visit www.spagio.com.
Breath of Hope Gala
This black tie gala, set for April 22 at L Brands Inc., 2 Limited Parkway, will include dinner, live and silent auctions, and a chance to hear inspirational survivor stories. Proceeds will benefit the Blue Beautiful Skies Fund for Lung Cancer Research. For more information visit www.breathofhopeohio.com or contact Wendy Hauswirth.
George R. Tuckett Memorial Golf Scramble
This 17th annual golf outing will be held on Saturday, June 17, starting at 7:45 a.m. at Westchester Golf Course in memory of George Tuckett, who lost his battle with cancer. Proceeds—raised by team registration, sponsorships, auction items and donations—will benefit the Cancer Strategic Support Fund. For more information, contact Matt Wolfe at wolfem6@gmail.com.

The Ohio State University College of Pharmacy will present the OSUCCC – James with a Friend of the College Award at the college's Spring Research Day on April 6. Henry Mann, PharmD, professor and dean of the College of Pharmacy, says this award, which is presented at varying intervals when outstanding candidates are identified, "recognizes an individual and/or individuals who are non-alumni for continuous thoughtful contributions to the growth and success of the college through ongoing service and support of the OSU Pharmacy Alumni Society and its students, faculty and staff." In a memo to OSUCCC Director and James CEO Michael A. Caligiuri, MD—as well as Senior Executive Director Jeff A. Walker, MBA; OSUCCC Deputy Director Peter Shields, MD; Department of Internal Medicine Professor and Chair Michael R. Grever, MD; and Division of Hematology Director John C. Byrd, MD—Mann said the award "is just one way we can say thank you for the great support you have provided in recruiting faculty to the college and for the shared commitment we have to ending cancer."
On Nov. 16, The Ohio State University signed an agreement with Nanobio Delivery Pharmaceutical Co. Ltd. for $1.4 million to support the set-up of a Center for RNA Nanotechnology and Nanomedicine for cancer research. The director of the new center is Peixuan Guo, PhD, a professor in the College of Pharmacy who also holds the Sylvan Frank Endowed Chair of Drug Delivery and is a member of the Translational Therapeutics Program at the OSUCCC – James. Guo, whose major research interest is applying RNA nanotechnology to cancer therapy, says 15 people attended the signature ceremony. Shown above (seated from left) are Guo; Haibo Hu, CEO of Nanobio Delivery Pharmaceutical Co. Ltd.; Cynthia Carnes, PharmD, PhD, associate dean of the College of Pharmacy; and (standing from left) Kristy Baker, director of the Office for Business & Industry Contracts at Ohio State; Matt McNair, vice president of economic & corporate engagement at Ohio State; David Mess, senior technology licensing manager – life science at Ohio State; and Maggie Merry, chief administrative officer for the College of Pharmacy.