THE JAMES IS HONORED FOR SERVICE ON OHIO MAMMOGRAPHY DAY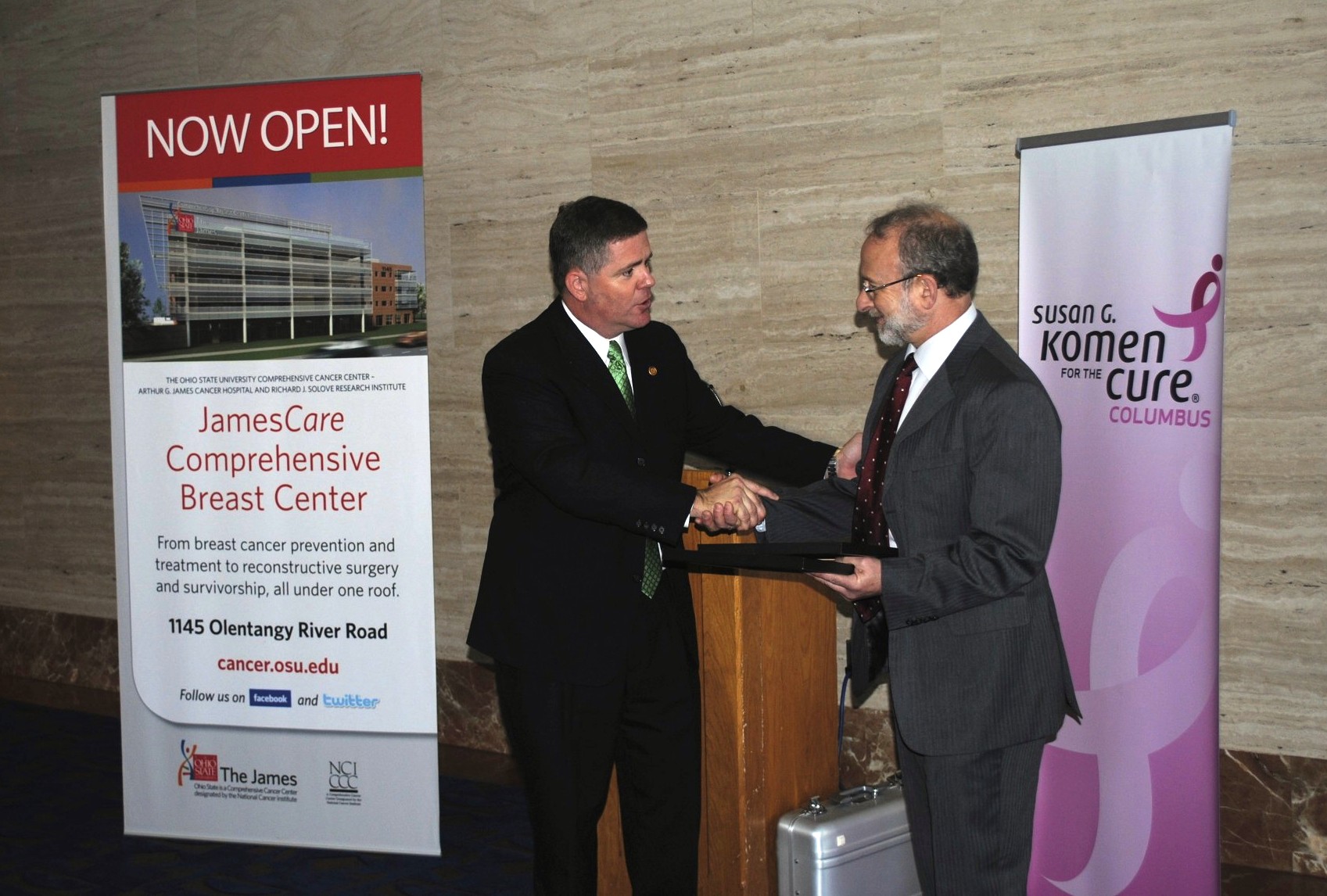 State Sen. Jim Hughes presents Richard Goldberg, MD,
physician-in-chief at the OSUCCC – James, with a state
resolution recognizing the OSUCCC – James' efforts
in the fight against breast cancer.
The OSUCCC – James received a pair of state resolutions in recognition of its efforts to help women battle breast cancer during Ohio Mammography Day festivities in Columbus on Oct. 20.
Leaders of the Ohio General Assembly's Cancer Caucus joined officials from the OSUCCC – James and from the Columbus Affiliate of Susan G. Komen for the Cure at the event, which was held at the Vern Riffe Center for Government and the Arts to raise awareness of the importance of early detection of breast cancer. In 1998, the Ohio legislature designated October as Breast Cancer Awareness Month and the third Thursday of October as Ohio Mammography Day.

Sen. Jim Hughes (R-Clintonville), co-chair of the Cancer Caucus, sponsored a resolution recognizing the work of the OSUCCC – James in the fight against breast cancer and for its efforts to promote early detection. Accepting the resolution was Richard Goldberg, MD, physician-in-chief, who addressed the importance of early detection and noted that the disease has a high survival rate when caught early.
"With today's medical advances, expertise and technology, women are afforded a wonderful opportunity to stay proactive about their breast health. Mammography is the gold standard for finding breast cancer early, and we know early detection saves lives," Goldberg said. "Women 40 and over should schedule a mammogram annually.
"And it's important to note that where you get your mammogram matters," he added. "At The James, we have mammographers and radiologists interpreting the results who are true specialists and subspecialists, dedicated to detailed breast imaging and individualized care."

Rep. Anne Gonzales (R-Westerville), Ohio House co-chair of the Cancer Caucus, also presented a resolution commending the OSUCCC – James and Komen for the Cure® for encouraging women to not only perform monthly self breast exams but also to have yearly physical breast exams by a healthcare provider and annual mammograms after age 40.

Gonzales noted that regular screenings are particularly important for individuals identified as high-risk for developing cancer due, for example, to the presence of genetic markers. She noted that medical providers recognize the need to assess and address these risks, and that the OSUCCC – James, through its Clinical Cancer Genetics Program, offers cancer risk assessment to people who are concerned about their personal and/or family history of cancer.
Gonzales pointed out that genetic counselors educate patients about ways to lower risk of cancer and ways to detect it early, when it is most easily treated. In the case of breast cancer, she said, that screening includes mammograms.

"Knowing the importance of having access to qualified genetic counseling for individuals who may be at risk of developing cancer, I have sponsored HB 292 to license genetic counselors in Ohio," Gonzales said. "This will ensure that providers of genetic counseling services have appropriate training and credentials so individuals will receive proper information and care." The OSUCCC – James supports HB 292.
Barbara Pryor, representing the Ohio Department of Health, explained Ohio's Breast and Cervical Cancer Project (BCCP), which provides high-quality breast and cervical cancer screening, diagnostic testing and case management services at no cost to eligible women in Ohio with incomes below 200 percent of the federal poverty level.
Pryor also presented a resolution from Gov. John Kasich officially recognizing Oct. 20, 2011, as Ohio Mammography Day and encouraging women to schedule their annual mammograms.
Mary Mertz, a breast cancer survivor and volunteer for Komen Columbus, spoke about the need for early detection, and a nurse from The James Line remained onsite for the day to provide informational materials, including phone numbers for scheduling a James mammogram.